Getting Started


Book Resources
About the Book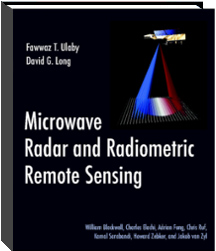 Principal Authors:
Fawwaz T. Ulaby
David G. Long,

Contributing Authors:
William Blackwell
Charles Elachi
Adrian Fung
Chris Ruf
Kamal Sarabandi
Jakob van Zyl
Howard Zebker

Language: English
ISBN: 978-0-472-11935-6
Other Computer Codes
As a service to the microwave remote sensing community, this site serves as an information center for available computer codes. You may contribute information about a code you are willing to share or you may avail yourself of codes made available by others.

Contributing Computer Code:
Using this active link, please fill out the form so we may add a link to your site, thereby allowing other users to use your code.

Exploring Available Codes:
The links below connect you to the owners of computer codes made available by them. Please forward questions directly to them.

Code Name: LFMCW SAR processors and data Matlab scripts and data that illustrate range-doppler and backprojection of LFM-CW SAR data collected as part of CASIE. Documentation, raw SAR data, and matlab scripts that read the raw data and process it into SAR images are available from the link. Made available by David G. Long, Brigham Young University.